Best CRM Software for Your Business in 2023
Finding the best CRM software in India for your business is now faster and easier! Compare prices, reviews, and features, and get free consultation.
List of
25

Best CRM Software

Showing

1

-

25

of

1051

products
Frequently Asked Questions (FAQs)
CRM (customer relationship management) is an essential technology tool used by businesses to manage and nurture their business interactions with customers.
1. Simple & Easy Integration
2. Remote Access
3. Mobile Access
4. Strong Multi-channel Support
5. Integrated Analytics
6. Campaign & data Management
7. Flexible and Customization
8. Lead Generation Along With Follow-up Tracking

1. AI-based Analysis
2. CRM and IoT
3. High Usage of Social CRMs
4. Advanced Integration Capabilities
5. Mobile CRM Will Be On the Rise
The Top Rated CRM systems include:

1. Freshworks CRM
2. Teleduce
3. Kapture CRM
4. ezeeCRM
5. Outwork AI
6. Salesforce Essential
7. LeadSquared - CRM
8. POCO CRM
9. Dquip's CRM
10. Cratio CRM
Web frameworks like Ruby on Rails, Spring, Angular JS, ASP.NET, Express or Symfony are usually used to develop a CRM. They are all good choices. All these technologies can develop a stable CRM that is highly scalable and can process data swiftly.

It also depends on what is important to you in your CRM software. For an application that must display maps and geographical data, a Django framework would be ideal. Angular's Twitter bootstrap plugin will allow you to develop a great UI.

The multiple modules offered by Node can manage the server efficiently, right from authentication to encryption.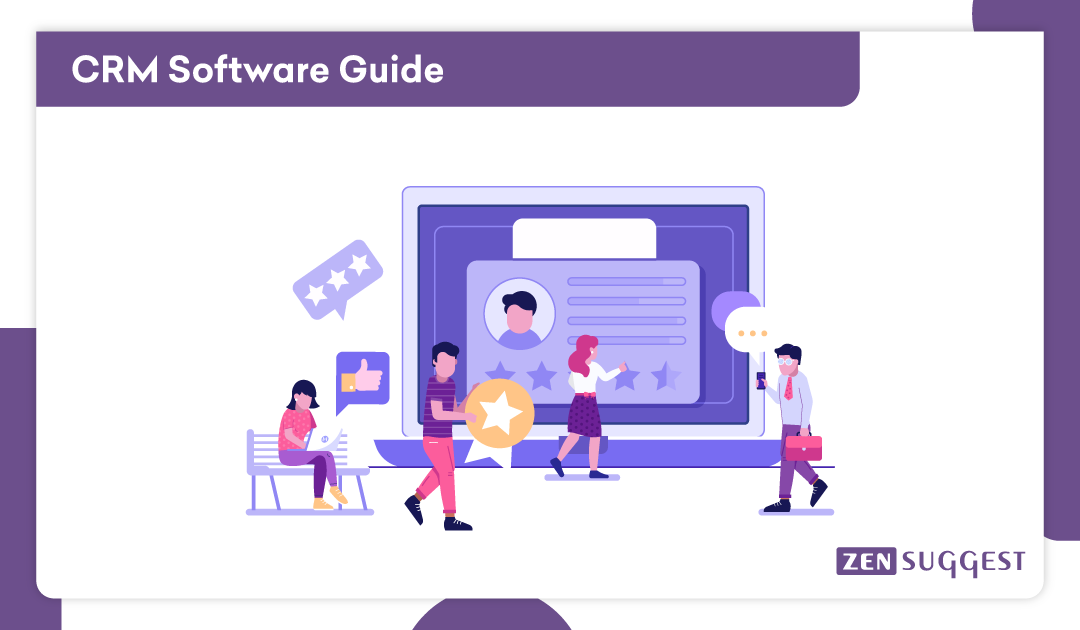 As the business expands, managing customer information, contacts, and other important business data become difficult. An increase in customers and employees means more information is recorded in hardcopies, which may lead to errors, misunderstandings, and mismanagement. Growing your business is an incredible responsibility. However, it also brings the need to organize and assemble information. In such a situation, a CRM (Customer Relationship Management) is critical in efficiently administrating data. It also aids in the tracking of the client's activity as well as their feedback. In this post, we will discuss the top CRM software in India. But before we proceed, let's briefly understand what CRM software is and why it is important for your business!
CRM software is simply a method or strategy for businesses that help in organizing and accessing customer data. From marketing and sales to the customer service department, CRM software helps to connect them all and integrates all of their notes, actions, and metrics into a single system.It all began with handwritten notes and Rolodexes. Still, as digital technology became more prevalent, it evolved into databases maintained on individual computers, and the CRM definition morphed into something lot more sophisticated.You can't talk about CRM software without mentioning SaaS and cloud computing, which work together to make CRM systems accessible from everywhere a user has access to the internet. Most businesses see a significant boost in leads, sales income, and client retention after implementing a CRM system.
Although there are a plethora of reasons why CRM software is pivotal for your business, some of them are mentioned below:
For Customer Data Collection: A CRM system keeps customer data confidential. As a result, you avoid a security compromise for your customers.

For Increasing Sales: CRM software allows you to close deals faster. You get the benefits of increased sales due to greater communication across the sales funnel.

For Lead Automation: CRM software automatically records lead information. As a result, human errors and inaccurate data input are no longer possible.

For Tracking Sales: Keeping track of the details of each transaction gets more difficult as the number of sales grows. On the other hand, CRM software keeps track of every sale and its details.

For Having Reports & Analysis: One can also have reports and analyses through CRM software. These aid in improved marketing and sales automation planning.

For Improved Customer Retention: CRM is a fantastic tool for identifying and nurturing potential and new consumers and keeping your present customers pleased. A CRM system provides a number of "customer retention" benefits, such as reminding you of appointments or when to send follow-up emails.

For Enhanced Customer Knowledge: CRM is an extremely powerful communication tool since it stores all information about each contact in one location, as easy as it may appear. A CRM system gives your sales, marketing, and customer care teams a competitive advantage, similar to a cheat sheet that provides quick access to critical information.
The array of top CRM software options available in the market is increasing daily, making it difficult to choose which CRM is best for your business. Now that you know much about CRM, let's have a look at the top 10 CRM software in India:
1. Zoho
Zoho CRM is an ideal CRM system for remote teams and sales professionals who spend a lot of time in the field. Its mobile app for iPhone and Android replicates many functions from the desktop version and updates in real time. It lets you access and edit your CRM data offline, so your sales team does not need internet access. Sales reps can log calls, customer visits, and other activities in the app. They can also attach voice notes and files for later retrieval and reference. A global search tool helps your team find information quickly. The app can integrate with your phone's caller ID, and a voice-activated assistant allows you to tap into your phone's native features. The mobile app also includes Zoho CRM's AI tool, Zia, which lets you create new client records, add notes to existing ones, change a deal's status, or initiate phone calls.
2. Salesforce
Salesforce is a comprehensive CRM system which includes a variety of incredible functions, such as lead management, contact management, opportunity management, email integration, etc.In addition, you can also sync and share data, anticipate sales, and manage workflows and approvals. Salesforce also has a mobile app for both iOS and Android users. Besides, the software allows your team to be more effective at work.
3. Maple CRM
Maple CRM is a popular small and medium-sized business solution. It gives you a complete picture of your performance in sales and marketing activities. The software has a lot of cool features including workflow automation, lead assignment automation, team administration, and access control.The product is really helpful in the improvement of relationships with the customers as well as the retention of clients. Furthermore, it facilitates the process by providing an invoice and quotation builder.
4. EngageBay
EngageBay was designed and developed with one goal in mind– to help small businesses align marketing, sales, and support without breaking the bank. Currently, over 45,000 businesses worldwide use EngageBay to grow their audience and close deals.Some of EngageBay's powerful features include multichannel marketing, drip campaigns, smart segmentation, A/B testing, personalization, and landing pages. Its Social Suite tool allows you to manage all of your social channels from a single interface, including Facebook, Twitter, Instagram, and LinkedIn.Moreover, you gain valuable insights into your campaign that help you better understand your customers, ultimately improving closing rates. Also, the platform provides a library of integrations such as WooCommerce, BigCommerce, Zapier, Jotform, and CallHippo.
5. Freshsales
Freshsales is another top CRM software that provides organizations with everything they need to manage their sales in one place. Advanced capabilities like call recording, call routing, auto-dialers, and affiliate administration are included in the tool.This is all possible due to its very intuitive user interface and a rich collection of features like AI-based lead scoring, intelligent workflow automation, and a visible deal pipeline.
6. Microsoft Dynamic CRM
Microsoft Dynamics CRM is a customer relationship management software package developed by Microsoft with the primary goal of helping businesses improve their customer relationships. The product primarily concentrates on the sales, marketing, and customer service industries. The CRM Solution can increase an organization's sales productivity and marketing effectiveness and manage the entire customer service chain. It can also be used to give social insights, business information, and a variety of other out-of-the-box functionality and features. It also includes full mobile support for CRM apps for smartphones and tablets.
7. HubSpot CRM
Hubspot CRM is one of the most forward-thinking CRM platforms. Aimed at small enterprises, the platform offers a freemium model as well as a variety of add-ons. It provides a unified and simple-to-use interface for running your business, with premium CRM features available for larger teams. With these, it has the potential to become an end-to-end CRM solution for small as well as large businesses.
8. SalezShark
SalezShark is one of the top CRM software in India for various start-ups and small businesses. It aids in the development of effective sales tactics and the gathering of valuable client data. Marketing automation, sales automation, a unified data solution, and relationship intelligence are just a few of its amazing features. Furthermore, it helps in the development of stronger client relationships, which leads to increased sales.
9. FreshDesk
Freshdesk is a SaaS helpdesk with great capabilities that are appropriate for both small and large businesses. Multichannel functionality integrated gamification for rewards, and smart automation are among its most significant characteristics. Self-service portals and common features such as ticketing and a community platform are also available.Freshdesk connects with major business programs like mailers, CRM, and productivity software to establish a smooth connection between client data and pertinent files. It comes pre-built with Live Chat, Phone Support, and Game Mechanics.
10. BIGContacts
BIGContacts is a simple and scalable CRM software designed specifically for growing businesses. The tool provides a centralized home for all contact information, including historical data and previous communication. With a 360° view of all sales-driven activities, keeping a firm track of your leads and their progress in the sales cycle is easy. Besides, you can closely monitor the stages of leads in a visual pipeline and send targeted emails with personalized messaging. The tool's email tracking and marketing automation features help you rise above manual tasks such as sending drip emails and taking follow-ups. This allows you to focus on the work that really matters.Robust reporting, social media tracking, mobile access, and task management are other interesting features that make this tool a worthwhile investment. If you wish to expand the capabilities of BIGContacts, you can do that too. Integrate it with popular platforms like ActiveCampaign, MailChimp, and Campaign Monitor to make the most of this CRM tool.
11. Sage CRM
Hundreds of companies from various industries throughout India rely on Sage CRM. Sage CRM is a sophisticated customer relationship management system that comprises three essential modules: sales, marketing, and customer service. It is a highly adjustable, flexible, and scalable software solution. Sage CRM has the advantage of smoothly integrating with Sage's premier accounting systems, such as Sage 50 and Sage 200.The platform very well uses your customer relationship management technology to boost sales, make more revenue from marketing initiatives, and cultivate long-term relationships with customers.
12. SalesBabu
Allowing you to increase client engagement, SalesBabu comes with a slew of appealing features that will help you boost sales and revenue. It can also help you automate your business processes. Each sales team activity can be recorded and monitored by the SalesBabu CRM Solution. It manages all lead information, including abandonment and closure rates. It also assists salespeople in developing a concentrated approach to achieving sales goals. SalesBabu CRM allows you to categorize clients based on a variety of factors. To ensure that you never miss a chance, you can keep track of sales by date, area, and product. Furthermore, inventory management, cost and payroll administration, and GST billing are among the services available. It also features a customer service hotline and after-sales support.
13. SendPulse
SendPulse is an easy-to-use CRM system that doesn't require any special skills or expertise. When you register for SendPulse, you'll be able to access your account and view your pipelines. In the settings, you can create deal fields, assign a person to the deal, and choose where to place new deals from integrations. You can also find deal stages and filters.Manage open contracts and assign them to your sales team members. You can sort completed deals by the deal result, add new contacts, sort them through the filter, and create data fields. In addition, you can integrate, add, manage, and sort tasks using the dashboard.The advantage of the SendPulse CRM is that it is provided free of charge. An essential feature of this CRM is its seamless integration with other service functions. For example, you can automatically create new deals and set up trigger emails based on a customer's specific action. In addition, a convenient mechanism allows you to add a contact directly from the chatbot.
14.PipeDrive
Most CRM systems available in the market capture lead and sales information, but Pipedrive's unique visual sales pipeline sets it apart from the crowd. You can get a complete overview of every deal's exact stage and use the drag-and-drop interface to perform mission-critical tasks. Pipedrive CRM also collects customer leads directly from your chatbot and web form interactions and feeds them directly into the sales pipeline. Customizable pipelines and fields allow you to tap into existing workflow systems or create new ones. The built-in automation feature lets you set activity notifications to miss no tasks, no matter where you are.Last but not least, the integrated AI tool analyzes your past business performance and recommends ways to improve your sales efforts. It also suggests tasks that will provide your business with the maximum benefit.
15. Freshworks CRM
If your business objective is to have more context-driven sales with a shorter sales cycle, you should check out Freshworks. It gives you a 360-degree view of your customers and helps you close deals faster. Freshworks is a preferred CRM solution for sales professionals who want to handle many calls simultaneously. You can link your virtual phone system to the CRM platform or buy a new toll-free number from over 90 countries.Freshworks provides a widget that allows you to make calls from Freshworks' sales page. You can also configure agent extensions for quick call routing and set custom ringtones to enhance the customer experience. Customized greetings and phone-tree messages add to the personalization and branding options and ensure a pleasant experience for your customers.The artificial intelligence tool, Freddy AI, can create deal packages with predictive contact scoring, deal insights, and chatbots. Freshworks CRM offers plans at several price points, including sales-only and marketing-only tiers. You pay only for the features you need.
16. Monday.com
Monday CRM is a blend of project management and CRM tools to keep you on track when dealing with customers. Its interface feels like a spreadsheet but brings far more functionality.The CRM software lets you keep the information you need most at your fingertips with custom dashboards. You can also dive into your workload with eight data visualization options, including Kanban boards and Gantt charts.The software easily adapts to various project methodologies, such as sprints, Agile, and Waterfall planning. It accommodates your existing workflows and tracks workloads in real-time. Thus, you will have a good idea regarding resource allocation.In September 2021, Monday.com launched work docs. It allows users to collaborate on documents using chat tools, dashboards, charts, and boards. Workdocs automatically update in real-time and keep your team updated with each project.
17. Salesmate CRM
Salesmate is the leading CRM software for small businesses that empower sales teams to win and close deal faster. It enables you to manage the pipelines. Further, it allows you to save time and other resources at every sales cycle stage. Finally, it enriches customer interaction and increases sales to skyrocket business growth.
18. Solid Performers CRM
Solid performers CRM is a feasible and robust customer relationship management software that helps small business owners manage their customers effectively. Now, you can customize your CRM platform as per your business needs with 'Solid Performers' to generate leads and manage workflow.
19. Kapture CRM
Kapture CRM provides all solutions that you need to maintain the relationship with your customers. Get a step closure to your customers with the top-notch and reliable CRM services entitled by Kapture CRM.
20. Avenga
Avenga is a custom CRM development company that enables you to convey a refined customer experience. It ensures that small organizations can identify the most up-to-date business opportunities and leverage them by employing advanced and robust CRM.
The Bottom Line
Various small and large organizations use CRM software for a variety of reasons. These pieces of software were created while keeping sales as well as Public Relations professionals in mind. They provide businesses with a simple and efficient way of organizing and accessing information. However, with changing environment and industry, the solutions too are evolving. A few CRM software packages additionally provide chatbot and telephony features. This makes it easy for salespeople because they can communicate with clients directly through the system.No matter whether you are a small business owner or a large one, choose any one of the above CRM software to take your business to a new zenith of growth!