Trusted Solar Panels Companies
Solar panel companies offer high-efficiency solar power products and energy saving solutions. Trusted service providers offer solar panels for both home & commercial spaces.
List of Best Solar Panels Companies
Showing
1
-
10
of
10
Companies
Showing
1
-
0
of
0
Companies
With the earth's natural resources dwindling quickly we were on the verge of running out of power. Electricity bills are rising day in and day out. In such a scenario, finding alternative sources of energy had become mandatory. Focus shifted to using renewable and inexhaustible sources to fulfill the energy needs. Solar energy emerged as a potential option. Other than saving the nation's resources, solar energy has benefitted its users at the basic grass root level. It has now been touted as the major power source worldwide.
Save on electricity bills: By installing solar panels for home, you ensure that every sunray that hits the panels lowers your electricity bills. Since, it is a renewable source of energy and households draw only what is required, there is a large cut down in electricity prices. Plus you have the bonus of generating power for decades if good quality panels are installed following strict guidelines.
Environment-friendly: You are playing your part in reducing the emission of greenhouse gases and reducing your carbon footprints.
Indian government under the Jawaharlal Nehru National Solar Mission (JNNSM) is providing incentives for the installation of solar panels for home. This can help you save upfront on a solar panel system.

There is improved economic and energy security as the need to import fuel from foreign lands reduces tremendously.
Good for the environment: We already know that generating power through solar systems reduces the emissions compared to traditional power generating systems. It helps to reduce the carbon footprints.
Save money on electricity costs: The electricity bills can devour up a huge portion of your monthly budget.
People find solar panel expensive. But you can choose between spending your money on a solar system and paying your utility providers. Buying a solar panel lets you generate electricity for free for at least 25 to 30 years. So, you are basically eliminating your bills.
Solar panel costs are fixed: Solar panels manufacturers or Utility providers often increase energy costs. But you'll be paying the same monthly cost. Price of solar panels fluctuations will no longer be a constant headache for those trying to manage their budgets. They provide for expense managing capabilities.
Solar systems can actually make you some money: Each month! If your system is producing more energy than what can be used, the excess power can be fed back to the grid for which you can collect revenue. It's a good return on your investment.
Solid home investment: Market studies done globally have shown that homes fitted with cleaner energy generation systems have higher exact property values compared to their counterparts.
Durable: Since, solar systems are fixed, the damages are rare and maintenance costs low. This lowers the scope for interruption in power supply and service.
Enjoy all day: It's a myth that solar systems don't work without the sun smiling down upon them. Solar energy providers or solar panels manufacturers keep you connected to the grid. When you are not using power, it is pushed back into the grid and provided to you when the system is no longer generating electricity.
Boosting the economy: Greater installation of solar systems, in a tropical country like India, can significantly reduce the burden of electricity generation. It will thereby decrease the need to import fuels and foreign oil. Thus, it makes the economy self-sustaining.
Showing off your commitment to green energy and sustainability: Many businesses have found that having green credentials is a powerful tool that drives customer purchasing decisions and improving business results.
Being ahead of the curve: Solar energy is the future of power generation. By converting to it right now, you are a step ahead of others. Moreover, what's cooler than having the sun powering up your homes?
To understand the basic concept lets put it simply. Solar panels for home allow photon (tiny particles of light) to hit on the atoms. This releases electrons, which generate a flow of electricity. The functional unit of a solar panel system is a photovoltaic cell. Many of these cells are linked together to make up one panel.
Each cell is a sandwich made up of two plates of silicon (semi conducting metal). This is also the element used in all electronic chips and microelectronics. Silicon plates in the photovoltaic cells are doped with other materials that give each plate a positive or negative charge. Generally, phosphorus doping is used to create a negative charge and boron doping for positive charge. Metal conducting plates on the sides allow collection of electrons for the flow of energy.
Other solar power technologies operate in different ways. But the key element is each is to harness the power of the sunlight and generate electricity.
Modules are a crucial part of the solar panel. They are placed in series connection within the solar panels for home or office, to provide additive voltage. Hence, if even one is destroyed, it can reduce the efficiency of that panel by almost 75%. Panel modules are in turn made up of a series of photovoltaic cells connected together. There are currently 4 types of commercial modules:
Single Crystalline: The oldest type with the most expensive production. Growing a single crystal is involved in the process.The even crystal framework without grain marks gives it the best purity and highest efficacy. Efficiency averages about 10%-12%.
Polycrystalline or Multicrystalline: The crystal structure breaks during production and does not retain its flawless properties. Due to its grainy structure it has slightly lower conversion efficacy compared to their Monocrystalline counterparts. Efficacy averages around 10%-11%.
String Ribbon: It is a modified and refined version of polycrystalline, made to reduce production costs. The efficacy is way lower and averages 7%-8%.
Amorphous or thin film: Silicone coated on glass or stainless steel is used. It is a good option for projects with lower power requirements. It is extremely lightweight and portable. The production costs are lowest and the efficacy is also subsequently less at 5%-7%.
Various constituent options include amorphous silicone, cadmium telluride and copper indium gallium.
A number of solar companies in India, both national and international, have now set up shop in India and provide solar panels online. One major company providing online buying option is Tata power Solar, a Tata initiative. You'll be buying directly from the company, which has a brand name and is trusted.
Other options include buying from eBay, Flipkart or Amazon websites. The customer reviews have led us to believe the equipment is shipped from China and the quality is substandard. UREnergy is a Dubai based company that has now started providing solar panel in Indian markets. You can purchase them online from their websites. A few other websites like urjakart.com have provisions that allow you to purchase solar panel online. Their own contractors then come over and install the system at your homes. They even provide provisions to track your electricity consumption through your smartphones.
But it is always advised to buy from a trusted service provider after verifying the equipment.
Installing solar panels can be a very exciting thing for a household. But do focus on some important aspects like the right solar system, correct mounting options and available space. It's a substantial investment so you need to make sure that it pays off.
Availability of space and feasibility of location: The amount of light an area receives and the space available will decide the type of solar panels. Obstructions like trees and nearby buildings don't make for ideal locations to set up solar panels for home.
Length of manufacturer's warranty: You would obviously expect the solar system to last long enough to pay for itself and earn some profit for you. So, we are looking at about 20-25 years time period. Make sure your system has a warranty period that long and the manufacturers are trusted who won't close shop before that.
Price and quality: For those on a strict budget, going in for used solar panel is a good option. But know that a system costing less money will not have superior quality. Equipment and solar panel installation don't come cheap and you'll get only what you paid for. Check components before buying. The panels should not be moisture damaged or have burns and melted areas. Some smaller companies can reduce solar panel costs by cutting important corners. Assess the condition of modules.
Scope for savings: Assess your electricity needs and then calculate whether installing solar systems will really help you save or not.
Certifications: Solar panels are subjected to a number of tests as decreed by the government. These are then certified accordingly. So, make sure that you are going in for a system that's well certified and the service providers are genuine. This could save you from government rebate especially in countries like Australia.
Choosing the material: Monocrystalline panels have a higher silicone content and have high-energy efficiency. Though expensive they are the best option for smaller roofs.


Polycrystalline panels produce more energy in the shade and adverse weather conditions than Monocrystalline panels. But the energy efficiency is low and they are used in places where more area is available.

Solar panel mounting: You need to make sure that the roof, ground mounting and tracking systems are engineer certified for that area. The mount secures the panel in place and needs to be chosen carefully. Flush mounts are inexpensive and easy to install. Pole mounts are a good option for tiny roofs.
Choose a solar inverter with high efficiency so it doesn't chug up a major chunk of the power produced.
The government accredits and acknowledges installers and systems only after they meet strict guidelines and quality standards. It is crucial that you get solar panel systems installed from an accredited company that has an established track record in terms of experience, technical expertise and a good reputation. They will guide you through the process of designing the project best fitted to your needs and help you understand policies and regulations. They will tell you about alternative options and energy cost savings along with providing a precise quote for the system.
Moreover, make sure that your solar panels for home or office are certified. You need to be diligent about turnkey solutions for key components of a system.
Before going in for a solar system check out these boxes in the checklist:
Assess your current energy needs and the system capacity you need and can easily afford. Try to install systems with a higher efficiency.

Only north facing roofs produce their full capacity. So ensure you have a north facing roof that is not lined/shaded by trees or other buildings.

Figure out the procedure for obtaining local council approval. Find out if you'll be requiring new meters and the solar panel cost.

Find out the savings if you install solar power. Whether it'll reduce your electricity bills or will you be charged higher if you connect solar PV systems.

If you are planning to install storage batteries for nighttime or during rains, check payback calculations for various solar companies e.g. Tesla Powerwall.

Find out about your system's payback time. Get multiple quotes from different installers to know that you're getting the best deal.

If you find the system too expensive, consider solar leasing and power purchasing agreements.

Check the warranty periods. Installing a new solar system can be heavy for the pocket. Go in for systems and installers who give a longer warranty period.
In India, the average capital cost of solar panels is INR 691 lakhs/MW. The actual cost would depend on site location, components selected and the installer hired. Subsidies of up to 15% are provided through Solar Energy Corporation of India (SECI) for systems of sizes 100-500kWp.
The cost of solar panels varies from country to country. In India, some of the best installers providing solar panel systems include Tata BP Solar India Ltd., Bharat Heavy Electricals Ltd. and HHV Solar Technologies Ltd. Etc.
The recent surge in oil prices, and the depleting sources of energy have obligated the government to consider alternative sources of energy. Solar panels or SPVs (Solar Photovoltaic Systems) are the modules required to convert sunlight directly into electrical energy. Supplemented with appropriately designed power conditioning units, the rapidly increasing electricity generation demands can be met to an extent.
With a tenure of 25 years, solar panels ensure uninterrupted electricity, barring the occasional dusting as per accumulation. The solar PV panels produce electricity in the form of DC current. Using the appropriate power conditioning unit/inverter, it can be transformed to AC and supplied for consumer's feeding. The government, in partnership with several manufacturers in the industry, has drafted subsidy schemes for different infrastructures. With variable power generation, which can be increased as per requirements, it is one of the cleanest sources of energy for the present era.
• Previous Efforts
Government of India realized the true potential of solar energy half a decade back, and launched the Jawahar Lal Nehru National Solar Mission on 11th of January, 2010. The plan aimed at deploying 20 GW of on-grid solar power generation by the year 2022. Recently, the Cabinet Committee on Economic Affairs (CCEA) allocated INR 5000 crores for Grid connected rooftops over a period of five years, a considerable increase from the previous allocation of 600 crores. The sanctioned amount would help boost solar generation capacity from rooftop solar generation installations.
However, the subsidy will be limited in its expanse as only the public offerings would be the beneficiary in this scheme. The restrictions on subsidy will exclude residential, government, social and institutional segments. The targeted generation capacity stands at a staggering 4.2 GW. The capital subsidy would stand at 30% for states from the general category /UTs, while a noticeable 70% cut would be assured for the special category states, i.e., North-Eastern states, Sikkim, Uttarakhand, Himachal Pradesh, Jammu & Kashmir and the island segments of Lakshadweep and Andaman & Nicobar.

• The National Solar Mission
No subsidies would be sanctioned for commercial or industrial infrastructures owing to the new policy rules. Seemingly, the Ministry of New and Renewable Energy ruled out the private sector, on the basis of additional benefits provided to them. Noticeably, these corporations are entitled for accelerated depreciation, excise duty exemptions, tax reductions, etc. Hence, the targeted 4200 MW generation will be achieved through other smaller setups.
The most noticeable amendment till date to the National Solar Mission (NSM), is the transfer of subsidy disbursement through MNRE's channel partners to a more simplified three key modes of distribution. The three key distributors as per the latest policies are:
Solar Energy Corporation of India (SECI). Reportedly, SECI will allocate 750 MW subsidy of rooftop SPV installations to system aggregators and EPC contractors.

Subsidy allocation through state governments with predefined capacity limitation.

Disbursement through financial institutions. (Speculations are high that State Bank of India would be the official provider of subsidies through MNRE's approval)
After the previous allocation of INR 600 crores, there was a severe shortage of funds to get going with all the subsidies offered. This new allocation will envisage a new course for rapid disbursement of funds, and decentralisation would lead to effective fund utilization. The government and institutional segments are set to gain from this development. However, a significant growth is expected in the Solar Photovoltaic Module installation on rooftops. The necessary skillset and the plethora of development with this plan at the epicentre will lead to unprecedented growth across the segment in the industry. With the implementation of these plans, the government aims at developing the solar energy powered electricity generation capacity to 20,000 MW by the year 2022.
• Subsidy Plans: Elaborated
Under the National Solar Mission, the Government of India has launched a full-fledged two step development program for public undertaking. As per the Solar Handbook of India, the schemes are:
Rooftop Solar Revolution: 500 MW Tender
With the targeted group of Residential, Institutional and Social sectors, this scheme would ensure installation of on-grid rooftop SPVs, and reach the 500 MW generation as the long term goal. The subsidy rates offered are:

30% CFA: General Category States would be the beneficiary under this plan. Union Territories of India are also under this plan.
70% CFA: The special category states, i.e., North-Eastern states including Sikkim, Uttarakhand, Himachal Pradesh, Jammu & Kashmir, Lakshadweep and Andaman & Nicobar Islands would be offered this noticeably high subsidy rates.

CFA is not available for PSUs, Private Commercial and Industrial establishments, owing to the tax exemptions already offered to them.

Scheme for Government/ Public Sector Undertaking Infrastructures: 1000 MW Tender
This plan would offer 25% incentive on project cost for 80% to 100% target achievement capacity. With an implementation procedure through open competitive process, it would cover corporation and government sectors.
• Latest Developments
This new programme has sorted out industrial and commercial sectors alike. Owing to their regular pace of growth and innumerous tax exemptions, offering subsidies for privately funded upon taxpayer's hard earned money didn't seem to be a nice idea. The segments covered under this latest scheme, namely, the institutional, government and residential ones, will undergo an unprecedented growth as soon as the blue print of the subsidy disbursement plan gets executed. The growth is anticipated to be considerable within 6 to 12 months. Rolling out the subsidy disbursement scheme would take a bit longer as states and financial institutions would be the one making the offerings. Hence, a year at threshold would be required for expecting growth out of residential on grid subsidy allocation.
The segment of harnessing solar energy for electricity generation is a venture of unleashed potential. With the planned installations of rooftop SPV modules, electricity shortage in India can be diminished to a considerable extent. With the present rate of solar power generation to be about Rs. 6.50/kWh, the days aren't an imagination, when solar power would be harnessed to its full potential and rectify all the non-renewable fuel hassles.
This new venture would garner India the image of a genuine eco-friendly nation utilizing solar energy at such a large scale. With the targeted 40 GW of generation capacity by 2022, India would slash out its carbon emissions by 60 million tonnes, and strive towards making the world greener and brighter for the future generations to come.
For the adventurous minds full of curiosity, we have compiled a few simple steps to help you set up your own free solar panel system.
Step 1:Get photovoltaic cells. You can order them online or get from a local hardware shop. To remove the wax coating dip them in hot, but not boiling water. Handle them with care, as the cells are extremely fragile.
Step 2: Arrange a piece of thin board made of non-conducting material. You will be attaching the cells to it. Leave an inch on the sides to connect wires.
Step 3: On the cells there are a number of small lines going in one direction. It is the larger length on the cell. Measure it, double the length and cut two tabbing wires for each cell. Prefer to buy pre-soldered tabbing which saves on time and solder (Image source: WikiHow).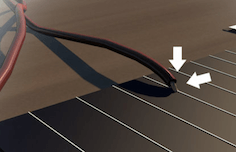 Step 4: Use the flux pen on each of the three strips of each line on the back of the cell. Bond the first half of tabbing wires to the cell on top of the soldered strips.
Step 5: Glue the cells to the board. Solder them and the tabbing wires together. The tabbing wire connected to the back of one cell should connect to the front of the next cell always (Image source: WikiHow).
Step 6: Connect the first row using bus wire. Use the bus wire to connect the end of first row to the second row and create a series connection. Continue connecting the rows. Try to minimize the number of rows and maximize columns.
Step 7: Make a box for the entire panel keeping a few inches on the side for the bus wire. You can paint this box. Glue the panel with the cells to the box you created. Make sure the attachment is secure and cells are facing up.
Step 8: Connect the final bus wire to a diode and secure it with silicone. Keep the bright end towards the negative end of battery to prevent backflow of electricity.
Step 9: Connect the panel to a charge controller. Try using color-coded wires for negative and positive charges to keep track. Make sure to end up with just TWO wires.
Step 10: Connect the charge controller to the batteries. Use the batteries for power. Seal the entire box/system using a sheet of Plexiglas. You can use silicone sealant to seal the edges. It needs to watertight.
For a visual of how to make a solar panel, you can see videos on YouTube. Once made, you can mount the panels in different ways.
Capacity Required:
Until and unless, you are planning to store surplus energy through batteries, it is important that you carefully estimate your energy needs. To get a system that pays for itself, you need a system that is just sufficient for your requirements. Assessing previous year's electricity bills can easily do it.
Other factors influencing capacity include efficiency and the output of systems installed, the available area for solar panel installation and the amount of sunrays that hit the roof. If the power ratings are high, fewer panels will be required and subsequently, lesser area and vice versa. Moreover, panels vary in length and breadth. So, find the one that best fits your roof.
Warranty Period for Solar Panels:
On an average a well-installed, good quality solar panel lasts about 25 years with minimal maintenance. Some panels produce 80% of their initial claimed power rating even after 25 years.
Therefore, you need to look for providers who can assure you a warranty period of at least 25 years. Go in for solar companies with a good track record so that you are assured of replacement or timely service during the warranty period.
To clear all doubts you must make sure to know the answers to the following questions when you are quoted a solar panel price for your solar panel systems:
1. Licensing and insurance:
Does your solar installer have the required credentials and insurance policies in the states where they are operating?

Ask whether they have electricians at hand in case a problem arises.
2. Installer experience and technical expertise:
Ask about their qualifications and engineering expertise.

How long have they been in business?

Do they have set-ups across multiple states?

Ask them for previous customer reviews and references.
3. Warranty and replacement/repair procedures:
Who to contact if there is a problem in the system? Who ensures that warranties are serviced from time to time?

What all does the cover? Does it include shipping and labor costs as well?

Do you guarantee the performance of the system? What happens if the system does not work as efficiently as promised? Some solar companies pay you if your system underperforms.
4. Solar leases and Power purchase agreements (PPA):
Is this a firm quote or just an estimate? You can make a better decision with a fixed solar panel price and real numbers. It'll help you to assess your requirements, address future electricity usage and optimize your bill savings.

Between a lease, PPA and loan, which financing option do you offer? Given my financial situation what do you suggest- Financing or buying it outright? Some financing options are a better fit for certain households. If one option doesn't work, you can always shop around to explore other options.

Which utility inflation rate do they use to calculate your projected savings?

What happens if your system produces more power than what you use? Do you still pay for it? Can you collect revenue on the power that is being fed back into the grid?
5. Energy Production:
How do you forecast the system's energy production?

Do you take shading into account? The actual electrical output is not equal to the panel ratings. So find out if the installer has a solid system and robust methodology to calculate the system's actual production.
6. Standard single inverters or system add-ons like micro-inverters and optimizers? The former is durable, simple and gives the best value for money. But for certain rooftops you might have to seek out other systems to ensure efficacy.
7. Quality check:
Is each finished installation assessed for quality?

Who installs the system? You need to make sure that the installers have done a proper job of installing the system. Some solar panels manufacturers incentivize their installers for meeting high quality standards.
8. What about roof inspection? Your roof should have at least 10 years before you install. Make sure the installers have checked your roof and there is no immediate need of reroofing. Ask about the cancellation fees if your roof isn't ideal for setting up the solar system.
9. How do they propose to protect the roof from leaks and damage? Is the seal watertight and capable of bearing the wear and tear of the solar panel installation? You need to make sure that the installer is responsible for repairing your roof so that you are not left hanging high and dry with a leaky roof.