Search Other Company Online!!
Get a database of other company and choose the one which matches your search. List of all the top other companies is available online covering all the streams.
List of Best Other Companies
Showing
1
-
20
of
20
Companies
ZEN is a Bpo Services company. It provides services like Bpo Services, Engineering Services, Law Firms, Writing Services. The company was founded in 2019 and its head office is located in Pune. Read more
$2.5 million to $5 million
"Testing review process Testing review process Testing review process Testing review process Testing review process " - Ravindran ZS
#1
Campfluence Technologies Private Limited is a Private Ltd Company. It was incorporated on 30 April, 2019. It is a Company limited by Shares having its registered office at Arazi 215/2 Marhauli Near Badhu Bir Baba Mandir Bhullanpur Varanasi ... Read more
#2
digi is a Private Ltd Company. It was incorporated on 25 December, 2020. It is a Company limited by Shares having its registered office at Pune. It is further classified as a Non-govt company. The total revenue of the company is Less than $... Read more
"User Experience " - Ravindra Test
#3
Algo - SS Testing is a Public Ltd Company. It was incorporated on 2019. It is a Company Limited by Guarantee having its registered office at Kondhwa, Pune. The total revenue of the company is $100,000 to $500,000. It has a total paid-up cap... Read more
"Testing on going review process " - ravindra
#4
Dupat Infotronicx Private Limited is a Private Ltd Company. It was incorporated on 07 October, 2003. It is a Company limited by Shares having its registered office at 305, Narayankrupa Square, Near AMA Hall, Mithakhali Railway Crossing Besi... Read more
"Very Nice Company" - Shaan Dudhia
#5
Hxrx Automation Private Limited is a Private Ltd Company. It was incorporated on 17 September, 2018. It is a Company limited by Shares having its registered office at C/O Upendra Pandey, House No. 70 Khanpur, Raghubar Rai, Jakhanian Ghazipu... Read more
#6
AppitQA Pvt Ltd is a Public Ltd Company. It was incorporated on 2014. The total revenue of the company is Less than $10,000. It has a total paid-up capital of $100,000 to $500,000 and an authorized capital of $10,000 to $100,000. Read more
"Here's a small token of appreciation from us for helping customers make informed decisions!"
#7
Mitosis Technologies is a Private Ltd Company. The total revenue of the company is $10,000 to $100,000. Read more
#8
hault is a Public Ltd Company. It was incorporated on 2012. It is a Company Limited by Guarantee having its registered office at Ahemadabad. It is further classified as a Subsidiary of Foreign Company. The total revenue of the company is $1... Read more
#9
markZS is a Private Ltd Company. It was incorporated on 25 December, 2019. It is a Company limited by Shares having its registered office at Pune. It is further classified as a Non-govt company. The total revenue of the company is Less than... Read more
#11
comp$z s2-704 is a Listed Company. The total revenue of the company is $100,000 to $500,000. It has a total paid-up capital of $10,000 to $100,000 and an authorized capital of $10,000 to $100,000. Read more
#13
Welcome to 9sportz, where we provide comprehensive information on some of the best sports academies across the globe. Our mission is to help athletes of all levels and ages find the right sports academy that will allow them to enhance their... Read more
#17
Loop Reality is a Private Ltd Company. The total revenue of the company is Less than $10,000. Read more
#18
EquinoxS Drones Private Limited is a Private Ltd Company. It was incorporated on 20 March, 2019. It is a Company limited by Shares having its registered office at 2nd Floor, Gopalan Signature Tower, Swami Vivekananda Road, Bengaluru, -56009... Read more
#19
Recently Reviewed
See the companies that have the latest reviews.
Other Companies in following cities
Showing
1
-
7
of
7
Companies
Best Overall: QuickBooks Online
Best for Automating Accounts Payable: Vyapar
Best ERP Accounting: Oracle Netsuite
Best for Invoicing: FreshBooks
Best for Small Businesses: Zoho Books
Best for Transparent Pricing: Sage 50cloud
Best Free Accounting Software: Wave Financial
Best for Freelancers Accounting: Sage Business Cloud Accounting
Best for Startups: Xero
Best for Processing Accounts Payable: AccountEdge Pro
1. QuickBooks Online
Why We Choose It
The best business accounting software includes inventory management features, sharing recent transactions, and accepting bulk payments. In addition, it provides companies with a single point of contact to streamline back-office operations and all financial transactions.
Pro
Scalable
Commonly used by accounting professionals
Simple inventory management
Cloud-based
Mobile app
Cons
Upgrade required for more users
Occasional syncing problems with banks and credit cards
Overview
QuickBooks Online is online accounting software that will help you stay on top of your cash flow. You can track your sales and expenses and generate key financial reports like Profit & Loss, Balance Sheet, and Cash Flow Statement. QuickBooks Online allows you to collaborate with your colleagues, accountants, and customers. With the Client Portal in QuickBooks Online, businesses can share their estimates, invoices, and statements directly with their customers.
2. Vyapar
Why We Choose It
A leading business management solution in the world, Vyapar is a robust accounting management system, stock control, financial reporting, and full-service payroll solution. Small and medium businesses can use it at no additional cost. It is used by more than 2 million businesses worldwide.
Pro
Mobile app
Cloud-based
Payroll integration with Gusto
Third-party app marketplace
User-friendly interface
Cons
The mobile app has limitations
Overview
Vyapar software is the latest offering from Tally that retains original simplicity yet offers comprehensive business functionalities such as Accounting, Finance, Inventory, Sales, Purchase, and Branch Management, along with capabilities like Statutory Processes, excise, etc. Vyapar is designed to make the lives of business owners simpler.
3. Oracle NetSuite
Why We Choose It
The comprehensive accounting system includes financial management, billing, revenue tracking, accounting, financial management, and reporting modules. Maintain all your data on the cloud to get daily cash balances and real-time visibility across your business.
Pro
Affordable
Advanced invoicing features
User-friendly interface
Third-party app integration
Cloud-based
Cons
Data cannot be easily transferred to other accounting software
Limited reporting
Overview
With a single, integrated suite of applications for managing accounting, order processing, inventory management, production, and supply chain and warehouse operations, NetSuite gives companies clear visibility of their information and control of their business.
4. FreshBooks
Why We Choose It
FreshBooks is the most uncomplicated GST-ready accounting management system, invoicing, and inventory management software available anywhere. It is specifically designed for small businesses with an easy-to-use interface to assist you in managing your small business digitally.
Pro
Scalable
Commonly used by accounting professionals
Cloud-based
Mobile app
User-friendly interface
Cons
Limited customer service
Fees charged for ACH payments
Overview
FreshBooks app lets you segregate accounts receivables and payables. It lets you stay on top of your finances and quickly determine the amount you need to "receive" and "pay" someone. Moreover, it lets you identify defaulters who have delayed your payments.
5. Zoho Books
Why We Choose It
The best bookkeeping software and software are used in accounting, Zoho Books can be used on either mobile or desktop. You can make bills, maintain stocks, track payables and receivables, and more.
Pro
Send payment reminders on WhatsApp
24x7 chat support
Works both on Mobile and Desktop
Cloud storage. 100% safe & secure
Real-time data sync
Cons
Targeted for Shop Owners, not for Service Professional
User role Salesman edit option has to be removed
Overview
Zoho Books is a simple GST billing & accounting software designed to help you manage your business operations using mobile or desktop. No prior accounting knowledge is needed to use this software. You can create bills, maintain stock, track payables/receivables, etc.
Small business accounting software costs range from Rs 2200 to Rs 5500 per month. Basic plans cost Rs 2200 and Rs 3000 per month and are an excellent place to start. Generally, small business account software can be scalable, so they can easily upgrade the subscription plan as the business grows.
A basic plan will enable a small business to categorize income and expenses, send invoices, and prepare financial reports. Companies can track inventory, prepare more customized financial data, and full-service payroll, and choose from different invoicing options with more robust plans.
Accounts Payable (AP)
Automates invoice capture, approval management, and authorization processes. The transaction information appears in both the general ledger and accounts payable.
Accounts Receivable (AR)
Tracks customer payments and purchases and reflects this information automatically in the general ledger.
Bank Reconciliation
It helps businesses spot discrepancies and missing entries in a record by matching "credits" and "debits" in the account.
Financial Reporting
Provides graphical representations of data in accounting systems, including sales reports, AP/AR, and cash flow analyses.
General Ledger
Provides information about each account's accounts payable and accounts receivable and about assets, equity, revenue, income, and expense tracking.
Billing and Invoicing
Provides invoices to customers based on customer records, prints them and sends them to them, and records the information in an accounting system.
Fund Accounting
Assists nonprofits and governmental entities track their organizations' business finances and expenditures. For example, nonprofits can ensure that they are meeting the requirements of their fund providers by following the expenses of donations or grants.
Expense Tracking
Expenses incurred in a business are recorded in this system. Most products allow users to submit the costs through their mobile phones.
Project Accounting
Maintains various accounting package attributes related to client-facing projects, including incurred costs, expenses, and billable hours.
Cost Savings
The traditional approach to managing small business accounting has been outsourcing, adding to the business' operational expenses. Accounting software allows companies to bring accounting functions in-house and reduce overall costs.
Improved Process Efficiency
Human error is a real risk in the accounting management system, which requires a lot of paperwork and manual data entry. Accounting software enables small business owners to speed up business finances such as expense management, accounts payables, and receivables by digitizing paperwork. Additionally, software used in accounting packages eliminates errors in calculations and discrepancies in records.
Easier Tax Compliance
Documentation and paperwork are also part of tax management for small businesses. Chances of delaying a filing can lead to penalties for late payments. By using the financial and account information stored in the computer, accountants' software makes the accounting process more accessible and error-free.
Accounting Software can be classified into 3 categories - Based on the size of the business, Based on deployment, and Based on functions. User requirements are generally based on the following factors.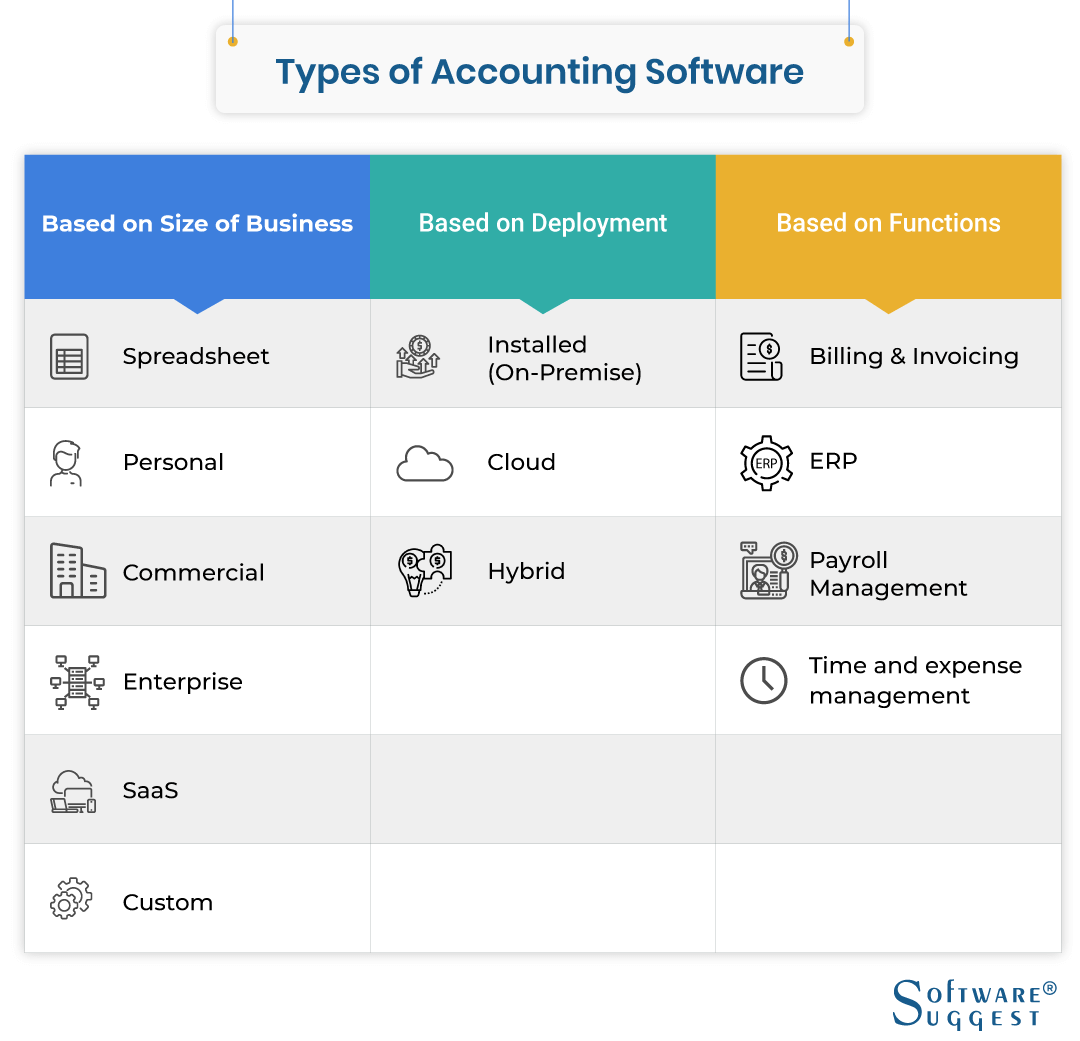 A) Based on Size of Business
Spreadsheet Accounting: Spreadsheet software is the most affordable and straightforward accounting solution and is highly preferred by businesses with low transaction volumes. The best accounting system seamlessly collects, organizes, and analyzes account data.

Personal Account Software: Ideal for small business owners and start-ups. It helps you eliminate the need for manually entering draft amounts or balancing your checkbook. A personal accounting system automates the process of tracking significant transactions and allows you to take charge of your assets and investments, such as fixed deposits, mutual funds, etc. It comes with simple budgeting tools and an astounding array of features to simplify your financial life.

Commercial Account Software: Best software for accounting has been designed to handle the accounting needs of small and medium-sized businesses. It comes with a host of impressive features that automatically generate comprehensive financial reporting and summarize data to portray the financial state of a business.

What's more, commercial accounting tools can be easily customized to your organization's needs. It also has a robust error detection mechanism to obviate inaccurate data entry.

Enterprise Account Software: It is one of the most popular accounting software for managing the complex operations of larger companies. Enterprise accounting software in India comes with a simple interface. It offers multiple modules such as payroll, accounts payable/receivable, reconciliation, billing, invoice, inventory management software, etc., helping improve business workflows.

This accounting system also provides inputs into the corporate-level strategy. It also generates a graphical representation of accounting metrics, allowing CFOs and managers to evaluate financial information whenever required.

SaaS: Software as a Service) based accounting platforms are emerging as a popular choice for businesses looking to minimize overhead expenses.

Since SaaS solutions reside in a shared environment and are based on subscription models, the cost of small business accounting software and hardware licenses is low compared with the conventional models.

Custom Accounting Tool: This is developed for businesses that want to customize their software to their accounting needs. Companies that want to tailor their report formats, recurring invoices, data fields, etc., generally opt for customized accounting solutions.
B) Based on Deployment
Installed (On-Premise): This accounting system is first downloaded on your PC and hosted on its server. Installed accounting programs can be accessed only on the downloaded device.
Locally installed accounting platforms are feature-rich, more secure than cloud-based applications, and do not require internet access.

Cloud: Cloud accounting software for small businesses is known for its scalability, ease of use, and cost-effectiveness. Cloud accounting solution sends data into the cloud, processing it and sending it back to the users. The bookkeeping software with a stable internet connection can be used from your PC and mobile and tablet devices.

The most significant advantage of cloud accounting tools is that it eliminates the need for installing and maintaining accounting system on individual desktops. Having offices in multiple locations lets your team members access the same financial data remotely through the internet.

Hybrid: Hybrid accounting solutions include sophisticated features of hybrid accounting solutions at a reasonable price. They are ideal for small and mid-sized businesses requiring sophisticated accounting tools.
Like SaaS-based accounting solutions, this offers accessibility from multiple locations via the internet.
C) Based on Functions
Billing & Invoicing Software: Billing and invoicing software is essential for daily business tasks such as documenting financial activities, writing checks, and notifying customers about outstanding payments.

ERP Software: ERP software functions help to make businesses plan, do forecasts, and generate reports on a company's financial results. The best ERP software comes with a scalable and comprehensive set of functionalities to help tiny businesses and multinational corporations streamline their accounting operations.

Payroll Management System: An efficient accounting system can perform various tasks such as automatic payroll calculation, depositing salary directly into your employee's bank accounts, generating payslips, tax forms, and reporting.

Time and Expense Management Systems: Time and expense management systems come with a time tracking module to help you keep tabs on time spent on different tasks by your employees. The small business accounting software also records the time, labor, and costs associated with other projects so that you can send invoices to your clients with solid evidence of time spent on their projects.
The first step to evaluating your options is determining your buyer type. Most buyers fall into one of three types:
1. Entrepreneurs with Small Businesses
Small business owners are on their way to upgrading their basic accounting systems to more robust ones that support premium accounting management system features (such as demand forecasting, intercompany accounts, increased financial data storage, and users).
Business growth leads to the upgrading of systems for a variety of reasons. For example, industry-specific functionality becomes crucial after a small business reaches a certain number of employees.
2. Enterprise Buyers
These buyers generally represent large organizations and businesses that need a complete enterprise resource planning (ERP) suite. In addition to international operations and foreign exchange, these systems are designed for managing multiple companies and global operations and other essential functions for large organizations.
It's usually more important to have seamless integration than specific accounting features; however, both areas are very competitive, and buyers should pay attention to both.
3. The Best-of-Breed Buyers
Businesses that perform fund accounting need easy accounting software specifically designed for nonprofit organizations. Moreover, in education, universities and colleges need software specifically designed for higher education, such as software for financial aid disbursement.
The method allows different grant providers to view how funds have been used. Finally, for best-of-breed buyers, like construction companies and engineering firms, accounting features are usually more important than integration for a system that can analyze costs for each project and location.
Business accounting allows access to critical information with just a few keystrokes, reducing the chances of human blunder that comes with manual accounting. For example, most small businesses use accounting tools to track revenue, forecast sales, and manage inventory.
Choosing the top accounting software for small businesses can be challenging with many available options. Below are six aspects to consider when selecting the accountant software that will best serve the needs of your small business accounting.
Considerations When Purchasing Accounting Tool
1. User-Friendly Interface
It is crucial to choose a simple accounting software solution that meets all of your needs, regardless of your business type or size. The triumph of any software used in accounting packages depends on how well its users handle it and how well it accomplishes your business needs. User-friendliness applies to every operating system, end-user application, proprietary in-house application, and many others.
2. Add-On Features
You need to look closely at the add-on features, which include features specifically designed to satisfy the needs of your business. Such features can consist of system access, payment options compatibility, or integration with other components, which simplifies your business process.
3. Scalability
Providing a complete overview of near-future demand and providing you with an ideal business strategy is the role played by accounting management systems in growing a company, which can increase with it.
Software for accounting includes features that also meet the requirements of a multi-user accounting system. Therefore, you should check what upgrades you will need to deal with as your business expands and how much those upgrades will cost.
4. Data Security
A critical aspect of online accounting software is data security. When choosing software, you need to ask about data storage and whether or not the company uses HTTPS connections.
The HTTPS protocol ensures that data transferred from your computer to the company's servers is encrypted and cannot be viewed by hackers.
5. Customer Support
Choosing the right and advanced software solution requires timely support from the customer care team or expert for any query. Therefore, customer care is one of the most critical factors when selecting an accounting tool package. Employees who are unhappy with the software or require advanced features can contact Customer Care directly.
6. Third-Party Apps Integration
Accounting software cannot work alone: it needs integration with other business applications. For instance, integrating with customer relationship management (CRM) software automatically pulls transactional data after payment is received from the client.
Users can also obtain information regarding payroll costs through integration with a human resources solution. Buyers should evaluate integration capabilities before making a purchase decision.