Benefits of Stem Cell Banking Companies
Take a tour of popular stem cell banking companies and understand the critical aspects assiciated. Know how umbilical cord's fluid treats several severe health conditions.
List of Best Stem Cell Banking Companies
Showing
1
-
10
of
10
Companies
Showing
1
-
0
of
0
Companies
Stem cells are the pluripotent cells of the human body from which all other structures develop (evolve). Stems are basically naive cells. They are primarily responsible for regenerating and regrowth of cells.
First present in the embryo, these cells differentiate to form the various tissues and organs of the body. In a more basic analogy, it can be compared to the stem of a plant from which the branches, leaves and other parts emerge. Stem cells can be transformed into the cells of the blood, heart, bones, skin, muscles, brain etc. Stem cells are obtained from different source, but all types of stem cells have the same capacity to develop into multiple types of cells.
Pluripotent Stem Cells: Also known as embryonic stem cells, they have the capacity to divide and retain the ability to make all types of cell within the organism. They are the cells that help babies to grow within the womb in embryos.
Fetal Stem Cells:These are the cells that are obtained from tissues of developing human fetus. These cells have some characteristics of the tissues they are taken from.
Adult Stem Cells:Adult stems cells are not naïve cells, they are mature cells. It is obtained from the tissues of the adult body. Bone marrow is the example which is commonly used, it is also a rich source of stem cells. Some of the blood diseases and cancers can be treated with the help of bone marrow stem cells.
Stem cell banking generally revolves around the collection and stem cell preservation of the amniotic stem cells, which are the embryonic stem cells. There are two ways of collecting. During the process of amniocentesis, done for genetic studying, amniotic fluid is withdrawn from which stem cells can be separated and stored. But the second method is preferred, which is non-invasive and safer. This involves collecting stem cells from the cord blood within a time frame of 10 minutes post childbirth. Since it is collected from the umbilical cord of the fetus, it also known as cord blood. Cord blood is the left out blood in the umbilical cord once the placenta is delivered. So there are no side effects to the mother or the baby. Adult cord blood banking is also coming up.
Once the blood containing stem cells is collected, it is transported under strictly regulated conditions to the stem cell banks in India. Here, the processing takes place and the stem cells are separated out. The methods of processing include Hetastarch, Plasma-Depletion, Sepax, Density-Gradient and PrepaCyte-CB. These are subsequently exposed to the freezing process gradually to preserve the life of stem cells(stem cell preservation) and then stored at -196°C in liquid nitrogen containers indefinitely. Now these cells can be used as and when required.
Till a few years back, stem cell bank was an alien concept in India. The doctors and scientists were apprehensive about the use of stem cells. Now there are about 3 public and 7 private stem cell banks in India. More banks are now popping up in various parts of the country.
Public banks are beneficial to those who cannot afford private stem cells banking. In this system, the mother donates her stem cells to the public bank. Once donated the donors have no right over their own stem cells. These can be given to other people after tissue immunological matching i.e. HLA typing. If the donor should require stem cells in the future, these banks find the right match and provide stem cells.
In the private cord blood banking, the donors pay to collect, process and store stem cells. They retain sole rights over the stem cells and will be the sole beneficiaries. The ownership can be passed onto the next generation once the child attains legal age. We have mentioned above the list of best stem cell banking companies in India.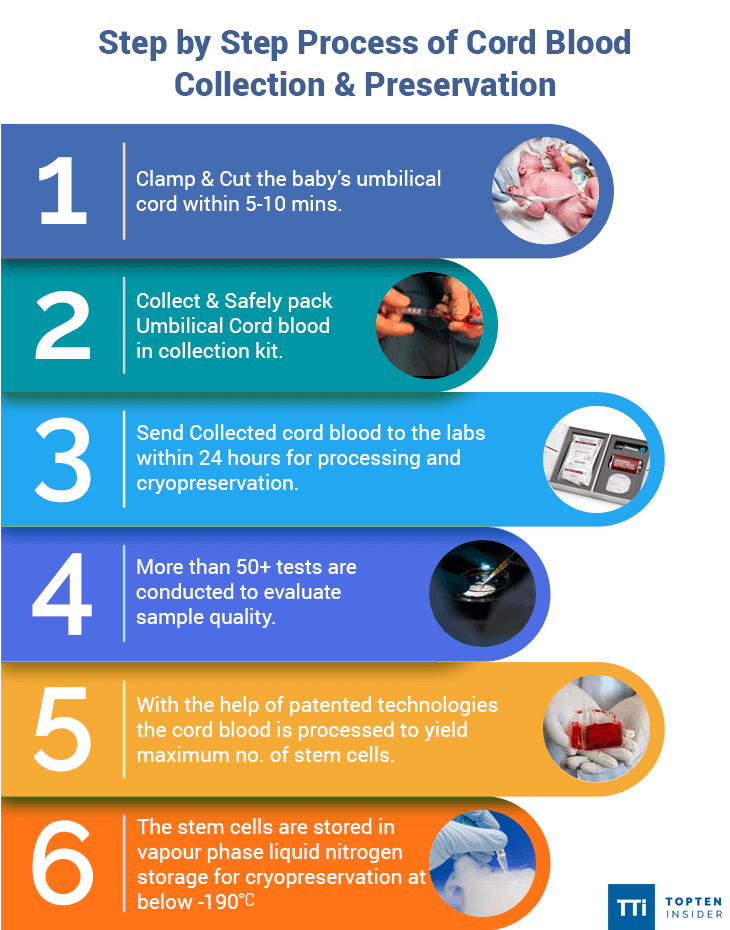 The adult cells and tissues are well differentiated and have limited regeneration capacity. The potential of stem cells to regenerate was a revolutionary finding, which is now being explored rapidly.

The currently known stem cell banking benefits include:
Stem cells are young and flexible cells with a high regenerative capacity. They can be used to treat degenerative conditions of the brain and heart, tumors viz. leukemia, myelomas, in other medical disorders like aplastic anemia, thalassemia and so on. Stem cells can be used to treat disease involving any part of the body viz. heart, brain, muscle or tissue.

Being a part of the body (amnion), the cord blood cells are not rejected immunologically by the receiver. The host tissue accepts them well. This reduces complications due to foreign tissue rejection in cases of organ transplant.

The stem cells can be used through non-invasive procedures to cure the diseases with the same results. Umbilical cord stem cell banking India has provided room to use stem cells and derive their above-mentioned benefits. It has played a role in treating over a million patients globally for a variety of diseases.
Go through the following list of tips to choose your blood bank
Find out if the bank you are planning to choose is well reputed and has the required manpower and the technical expertise.

Does the package offer stem cell therapy in India? Umbilical cord stem cell banking without stem cell therapy defeats the whole purpose of banking stem cells.

Ensure that the bank has good connections and tie-ups with hospitals. This will make sure that your child's cord blood can be collected safely and quickly for banking and also delivered immediately should the need arise.

Location of the bank should be such that it is well protected from natural disasters and preferably close to your hospital.

Find out about the power backup systems of the umbilical cord banking. The storage units require large gobs of power. Without the maintenance of proper temperatures, the stem cells are most likely to lose their viability.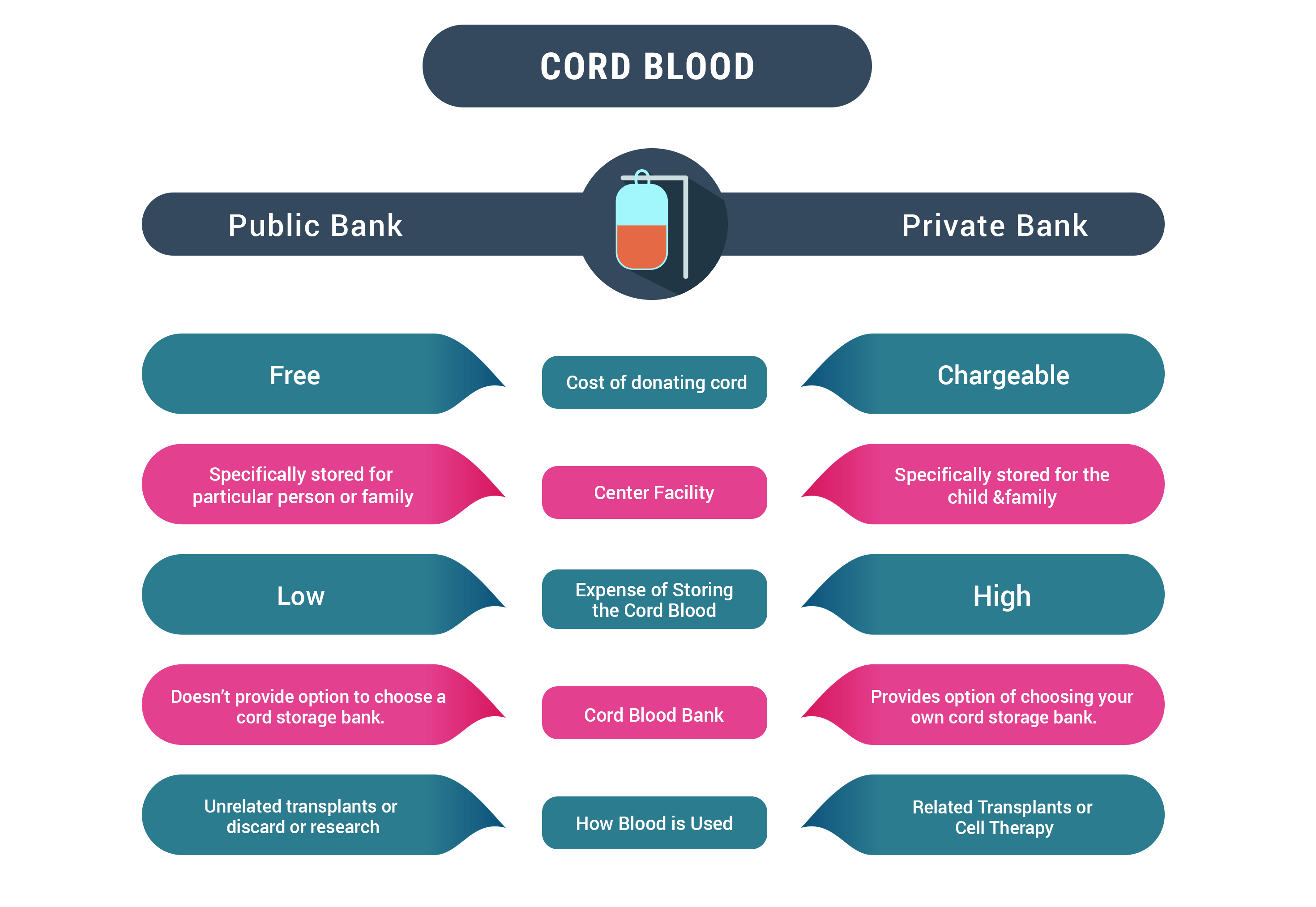 Umbilical cords are disposed off soon after delivery. So for those who want to go for umbilical cord banking, certain preparations need to be made well in advance.
Following the tips mentioned above, select the best stem cell bank in India that works for you, whether public (like Jeevan) or private (like Lifecell, cordblood.org etc.) depending upon the stem cell banking cost and annual storage fees. Once selected inform your hospital about your choice. This is important because many hospitals do not have provisions to collect cord blood and some already have tie-ups with their stem cell banks, which you might have to choose against your wish. Once selected, finalized and fixed with the hospital, you can register yourself at the bank. They will take down your details. After that, you can just sit back and relax! During the delivery, the hospital will notify the bank. The umbilical cord banking will send its collectors to collect cord blood, which is then transported back to the labs in collection bags. The tests including cell count and those for sterility are performed. Then the stem cell India are stored at ultra-cold temperatures for future use.
Stem cells are valuable as they are the original building blocks of human body, which in return gives stem cells the potential to cure diseases and damaged functions.
Here are top reasons why you should protect your baby's stem cell.
One in every 200 people may need to use his or her stem cells in a lifetime.

One of the top 10 common cancers in India, Non-Hodgkins's lymphoma, is a stem cell treatable disease.

Two of the top 5 most common childhood cancers in India, leukaemia & lymphoma, are treatable with stem cells.

60% higher chance of locating a matching cord blood unit in the family versus bone marrow.

In the case of cellular stem cell therapy and regenerative medicine, only the parent's own stem cells can be used in the stem cell treatment in India for best results. Clinical trial for Autism is the latest development.

A readily available supply of stored haematopoietic stem cells. This compares well to having to do a national or international search which is costly & time-consuming in an already crisis situation.

No risk of Graft vs. Host disease for autologous transplants, a situation where the transplanted tissue attacks the patient's own tissue.

Umbilical cord blood stem cells are younger, and are more tolerant to tissue mismatches, compared to other types of stem cells, e.g. bone marrow.

Cord blood stem cell India are used to treat nearly 80 debilitating diseases.

Child's cord blood stem cells also have a 25% chance of a perfect match for a sibling and a 50% chance for a partial match.

Cord blood stem cells are rarely contaminated with latent viruses, which results in better acceptance by the body than stem cells from bone marrow.
Stem cell can be stored for 21 years. Storage services for more than 2 decades is a vast time period and bound to be expensive. The whole process of stem cells banking is divided into two parts: Initial enrollment fee and Storage fee.
Initial enrollment fee: This is taken when you initially enroll for take services from the stem cell banks in India. This enrollment fee might or might not include the umbilical stem cell banking cost of collecting the cord blood sample.it varies from bank to bank. The initial fee ranges from 5K-30K INR depending on the bank
Storage fee: Storage fees can be paid monthly or annually. You can store two samples of cord blood cell of your child at two different sites. The storage fees varies from 30K-3 Lacs and above differs according to the bank and the plan you choose.